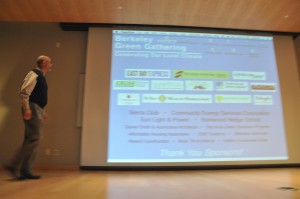 Ed Church, Executive Director of the Institute for Environmental Entrepreneurship, called for sound ecological investing at this year's Berkeley Green Gathering, which was held on November 5 at Berkeley City College.
One of 12 local speakers chosen to highlight their work building a sustainable tomorrow, Ed described how members of the Baby Boomer generation collectively have the investment power of trillionaires tied up in their retirement plans.  It is not enough merely to avoid investing in damaging companies, it is time that this generation used their combined earnings to invest in making the world better through the new field of Impact Investing.
Ed, inspired by reading the book Slow Money, said that the local food system is one of the best places people can invest, and he described how he put some of his retirement portfolio towards getting Gather, an organic locally-sourced restaurant located in Berkeley's David Brower Center.
One of the Institute's Sustainable Enterprise Cluster members is the Slow Money Alliance, whose executive director Ari Derfel, also runs Gather.  Ed Spoke of how Slow Money Alliance is dedicated to the very mission of investing in local food and encouraged the audience to join in their mission.
Other local speakers included Kristin Henninger, the director of Green Cafe Network; Victory Lee, the founder of the Victory Garden Foundation and Aekta Shah of the Wangari Maathai Center.
Environmentalist and author Bill McKibben delivered the keynote after being introduced by comedian and activist Josh Kornbluth. McKibben spoke of the dire realities of climate change today, and how efforts such as his own 350.org campaign are doing a great job of educating people about the problem but not yet enough to stop global warming.