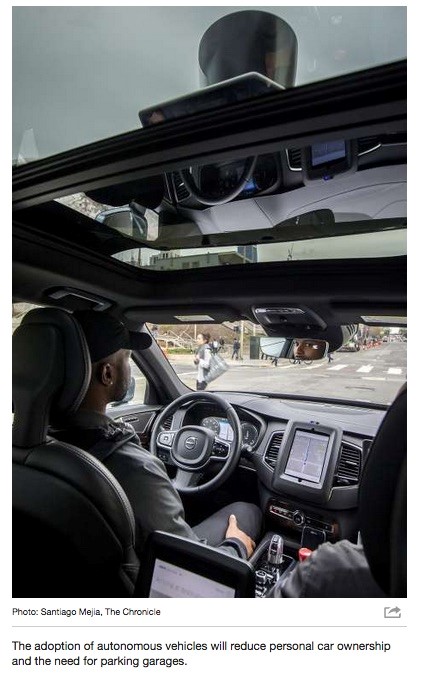 On New Year's Day, 2017, the San Francisco Chronicle's Sunday Insight Section led off its articles called "2017 and Beyond" with a piece from IEE Executive Director Edward Church, called Don't Build Parking Garages – They Won't Be Necessary.
As with the previous piece in Green Biz from which it was adapted, the article emphasized that Millennials downplay car driving, "robot taxi" autonomous vehicles will soon be called with a cell phone, and fossil fuel use will decrease to battle climate change.  All these will mean dramatically less need to park cars, and the likelihood that new parking garages will be bad investments.
The Chronicle article also drew implications for the Bay Area, where we could be housing people instead of housing cars.  Parking spaces in San Francisco cost more than $34,000 each to build (in 2011), and take up 330 square feet of space. That is about the space needed for an apartment micro-unit. In the housing-starved Bay Area, that trade-off should be made explicit.