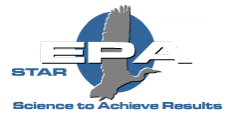 Each year, the U.S. Environmental Protection Agency (EPA) awards prestigious Fellowships for Graduate Enviromental Study under the Science to Achieve Results (STAR) program. Fellowships of up to $126,000 are awarded through the National Center for Environmental Research. This February, Edward Church, IEE Executive Director, was one of the Peer Reviewers consulting on selection of STAR finalists in Washington, D.C.
Reviewers evaluated applicants on their potential for success in an environmental graduate study program. The program engages the nation's best scientists and engineers in targeted research that complements EPA's own outstanding intramural research program.
One of NCER's highest priorities is ensuring that the nation has a well-trained scientific workforce that can address tomorrow's complex environmental issues.
STAR Fellowships have focused on such topics as air toxics, drinking water, water quality, global change, ecosystem assessment and restoration, pollution prevention and new technologies, economics and decision sciences, computational toxicology, nanotechnology, and biomarkers.
Ed was one of the few consultants from the Western U.S. and was pleased to be able to bring the Institute's participation to the EPA process.