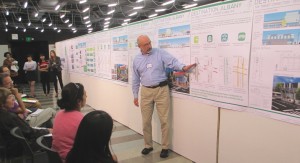 Each Summer, the UC Berkeley College of Environmental Design conducts the [IN]CITY program to provide non-planning students with introductory skills in urban planning and policy methods, including data collection/analysis, physical planning, mapping and visual representation. Students are introduced to land use policies and urban development processes and develop critical thinking, observation, and analysis regarding an understanding of cities.
The studio products are designed for students to explore key policy challenges (institutional, political, social, economic, environmental, among others) and to develop tangible design and planning strategies. The class culminates with a studio presentation.
This August, IEE Executive Director Ed Church was invited to critique the studio presentations. "I was delighted to share my experience with these thoughtful students," Ed remarked. "It's important for folks in a variety of disciplines to have a perspective on urban planning, which effects all our lives.