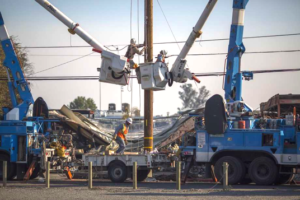 On October 30, 2017 the San Francisco Chronicle published a piece by IEE's Ed Church about the opportunity to rebuild electricity infrastructure after the destructive fires in California's Wine Country.
In the article, Church emphasized that local energy microgrids are more resilient in the face of service interruptions caused by natural events, including devastating fires and storms that have taken down utility infrastructure.  They are also less vulnerable to hacking, and energy loss from long-distance transmission
Coupled with renewable energy from wind and solar, and energy efficiency like that of "passive houses," microgrids can save money and reduce CO2 emissions.