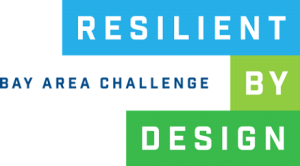 Resilient Bay Area brought its 10 winning design teams together at the David Brower Center on September 11. In a yearlong challenge, teams of engineers, architects, designers and other experts will work alongside community members to identify critical areas throughout the Bay Area and propose exciting, new, community-based solutions that will strengthen our region's resilience to sea level rise, severe storms, flooding and earthquakes.
Resilient Bay Area is in part an attempt to use lessons learned from the Rockefeller Foundation's Rebuild by Design effort after the East Coast's Hurricane Sandy, and apply them before disaster strikes the Bay Area.
IEE Executive Director Ed Church welcomed all to the Brower Center and gave a short presentation illustrating how moving to a fossil fuel-free California might affect the teams' designs.