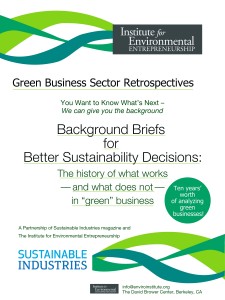 Sustainable Industries is an independent West Coast media company producing an award-winning bimonthly magazine, industry newsletters, webinar series, case studies, and the Sustainable Industries Economic Forums.  In 2012, IEE partnered with Sustainable Industries Magazine, by reviewing and chronicling all their articles published from the inception of the magazine in 2003 through 2012. IEE's synthesis of all articles focused on specific green industry sectors over the 10-year period, summarizing trends, highlights, chronology of events, impacts, challenges, and industry opportunities.
The first Industry Sector Report published focuses on the history and chronology of the LEED certification. It was published by Sustainable Industries in October of 2012.
With our partner Sustainable Industries, IEE now offers clients a full analysis and synthesis of top sustainable industry sectors by aggregating sector information in a retrospective context.
For the full LEED Retrospective, click here.