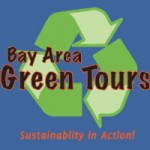 Sustainable and environmental business practices sound like a good idea to everyone, but getting there remains a question for many small-business owners and non-profit leaders.
Taking a traditional business and turning it green can be expensive and difficult, leaving some to wonder whether it is even worth the effort.
But even the most resolute skeptic will be transformed after taking any one of the specialized journeys offered by Bay Area Green Tours. From tours of product manufacturers, to the transportation industry, food systems, and architecture, Bay Area Green Tours, and the businesses they'll introduce their clients to along the way, show that sustainability and green practices are not just possible, they are the only thing that makes sense.
Travelers on the tours will not only be encouraged by what is possible, but they will also come home with tips they can likely apply to their own businesses. But it's not only business leaders who can benefit from a ride on Bay Area Green Tour; the experience is a perfect way to help inform students, community groups, and individuals about how all businesses can move towards sustainability.