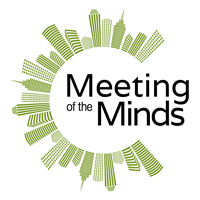 Meeting of the Minds is an invitation-only conference that brings together 350 opinion-shapers, policy-makers, leading thinkers and innovators from every sector. The conference is two-plus days of intensive exchange for leaders creating more sustainable cities using smarter design tools, sounder environmental practices, and cleaner energy systems.
Among the dozens of international leaders who speak at Meeting of the Minds are innovators scaling-up practical urban innovation in infrastructure, design, technology, energy, transport, water, finance – all are building more livable cities. At Meeting of the Minds, leaders from multiple sectors and diverse geographies share ideas and shape a common agenda.
In November of 2012, IEE Executive Director Ed Church was invited to attend their San Francisco convening. Following the meeting, MOM creator and convener Gordon Feller of Urban Age Institute invited Ed to write a piece for the CityMinded.org blog highlighting points of interest MOM participants would have in IEE's Arup paper. IEE was commissioned by Arup to do a high-level review of the human interaction with the built environment, with the goal of creating low-carbon cities.
Meeting of the Minds published the article here.
Here you can read the full report for ARUP: Cities and People Project White Paper.