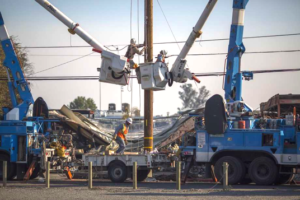 On October 30, 2017 the San Francisco Chronicle published a piece by IEE's Ed Church about the opportunity to rebuild electricity infrastructure after the destructive fires in California's Wine Country.
In the article, Church emphasized that local energy microgrids are more resilient in the face of service interruptions caused by natural events, including devastating fires and storms that have taken down utility infrastructure.  They are also less vulnerable to hacking, and energy loss from long-distance transmission
Coupled with renewable energy from wind and solar, and energy efficiency like that of "passive houses," microgrids can save money and reduce CO2 emissions.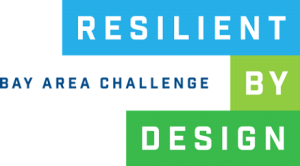 Resilient Bay Area brought its 10 winning design teams together at the David Brower Center on September 11. In a yearlong challenge, teams of engineers, architects, designers and other experts will work alongside community members to identify critical areas throughout the Bay Area and propose exciting, new, community-based solutions that will strengthen our region's resilience to sea level rise, severe storms, flooding and earthquakes.
Resilient Bay Area is in part an attempt to use lessons learned from the Rockefeller Foundation's Rebuild by Design effort after the East Coast's Hurricane Sandy, and apply them before disaster strikes the Bay Area.
IEE Executive Director Ed Church welcomed all to the Brower Center and gave a short presentation illustrating how moving to a fossil fuel-free California might affect the teams' designs.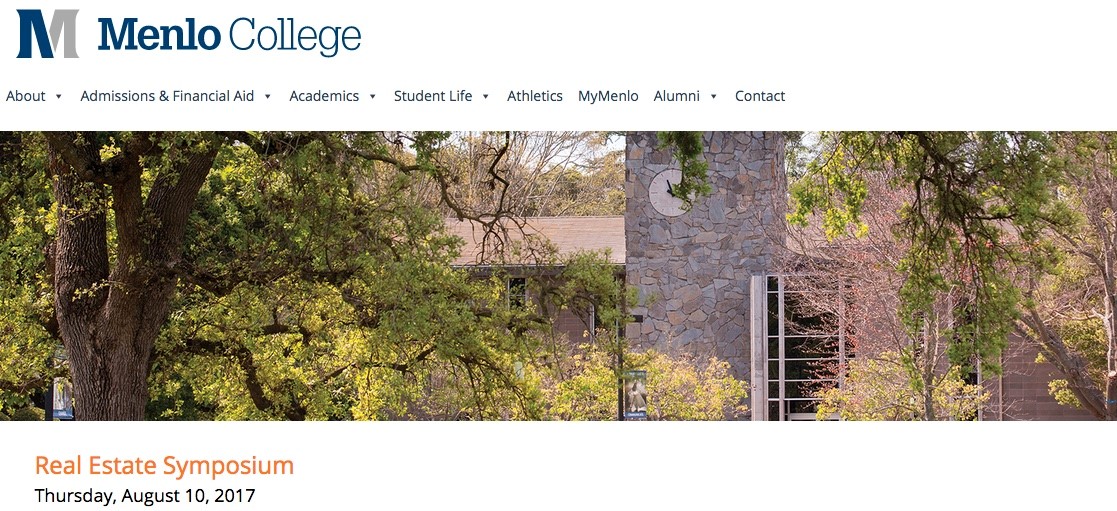 Institute Executive Director Ed Church gave the Keynote presentation at the annual Real Estate Symposium at Menlo College in Atherton, California on August 10, 2017.  Titled "Changing Climate, Changing Real Estate," his presentation outlined major issues for the built environment and our planet.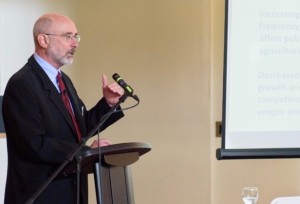 Because Menlo College is in Silicon Valley, Church spoke of "innovation: serving what we would or could do," and contrasted it with climate change-driven "adaptation: serving what we must do."  Opportunity for real estate, as well as other business sectors lies at the intersection of the two.
For an audience which frequently feels constrained by regulation and public policies, Church asserted that California climate regulations based on realistic appraisals of the need to reduce fossil fuel use give real estate professionals an advantage over areas of the country like the Southeast, who feel the brunt of climate change without acknowledging it with policies that can mitigate its effects.  Church showed how, in California, regulations can create value and a level playing field for buildings and energy use.

The Global Social Venture Competition (GSVC) empowers the next generation of social entrepreneurs by providing them with mentoring, exposure, and over $80,000 in prizes to transform their ideas into ventures that address the world's most pressing challenges. Teams from across the globe learn how to design scalable models through a process that emphasizes stakeholder discovery, business innovation, and social impact assessment.
IEE Executive Director Ed Church, previously a Mentor for the Competition, this year served as a Judge in the Regional round, held at the Haas School for Business at UC Berkeley on February 24, 2017.
Founded by MBA students at UC Berkeley's Haas School in 1999, the GSVC has evolved into a global network of premier business schools, universities, and programs in the US, Europe, Asia, Africa, and Latin America. Each partner school and program is supported by a network that includes other universities and organizations, judges, mentors, and investors focused on social impact, innovation, and entrepreneurship. In 2016, GSVC received nearly 500 entries from 50 countries. GSVC has helped launch successful social ventures such as Revolution Foods, d.light, Husk Power, Ethos Water, Sanergy, and World of Good.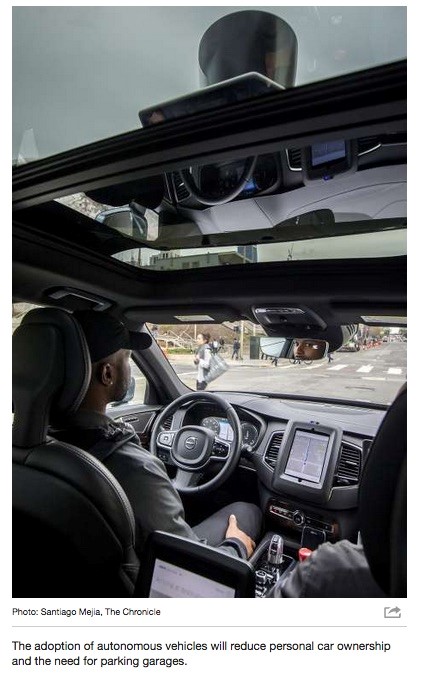 On New Year's Day, 2017, the San Francisco Chronicle's Sunday Insight Section led off its articles called "2017 and Beyond" with a piece from IEE Executive Director Edward Church, called Don't Build Parking Garages – They Won't Be Necessary.
As with the previous piece in Green Biz from which it was adapted, the article emphasized that Millennials downplay car driving, "robot taxi" autonomous vehicles will soon be called with a cell phone, and fossil fuel use will decrease to battle climate change.  All these will mean dramatically less need to park cars, and the likelihood that new parking garages will be bad investments.
The Chronicle article also drew implications for the Bay Area, where we could be housing people instead of housing cars.  Parking spaces in San Francisco cost more than $34,000 each to build (in 2011), and take up 330 square feet of space. That is about the space needed for an apartment micro-unit. In the housing-starved Bay Area, that trade-off should be made explicit.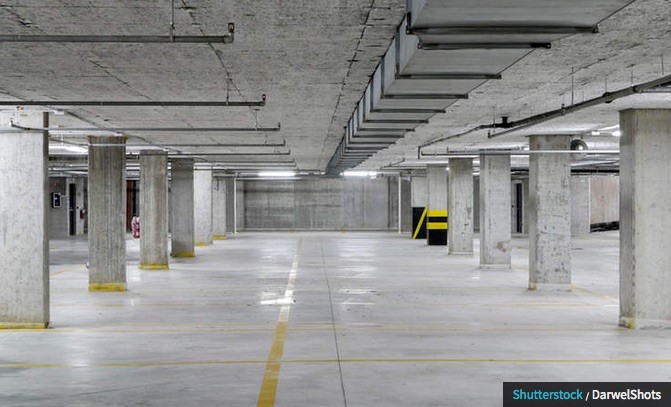 On November 21, 2016 GreenBiz published this piece by IEE Executive Director Ed Church.  Three significant pressures are aligning which should give pause to investors in automobile parking garages. Garages are typically financed on a 30-year payback, either by cities or private investors. But they could find themselves holding the un-payable back-end of a 30-year note, when folks stop driving within the next 15 years.
The first pressure, already underway, is from Millennials simply not interested in driving. In part, this is based in the embracing of social media connectivity that makes connectivity via car unnecessary or burdensome. With fewer drivers' licenses and auto purchases among young adults comes decreased need for that parking garage space.
The second pressure is the technological advancement toward autonomous vehicles. As these vehicles are converted into "robot taxis" which can be hailed with a tap on a cell phone app, the need for ownership of personal cars will decline, taking with it the need for parking space.
The third pressure, greatest of all, is the move away from fossil-fuel burning automobiles.  These will simply be phased-out.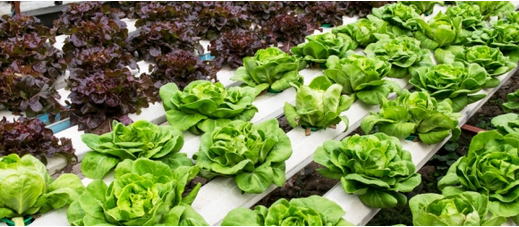 How to know where climate change leads us? Climate scientists have discovered, and elaborately described, dramatic changes in the Earth's climate which will effect us all. Chemists, biologists and other scientists have joined with physicists and meteorologists in the next phase of the endeavor, projecting the effects of climate change on our planet.
What follows from those predictions are proposals for physical counter-measures to lessen or adapt to the effects. But, what happens after we take those counter-measures, mostly centered on ending our use of fossil fuels? Those adaptations will change the way we live.
The longer-term realities – for Millennials and their children – will be living with the disruptions of adaptations necessitated by climate change: adapting to adaptation.
Meeting of the Minds recently published this piece by IEE Executive Director Ed Church, synthesizing information from business, governments and start-ups to start the discussion on how we will live in 2050.
Ten government officials and researchers from South Korea visited the Bay Area on Friday, November 13, 2015, in a trip organized by ICLEI.  The visitors wanted information on the best practices in urban sustainability. The group was hosted by Earth Island Institute's Executive Director John Knox at EII's conference room.
Board members and staff from ICLEI described their work.  Ed Church, Executive Director of the Institute for Environmental Entrepreneurship, spoke about energy and water use in the built environment.  Juan Wei told the group about Asia Society's Pacific Cities Sustainability Initiative.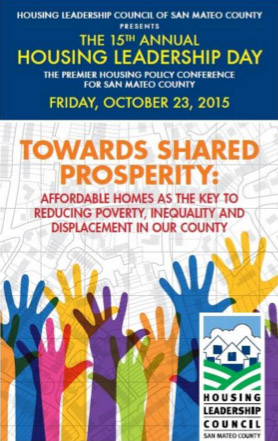 At the 15th Annual Housing Leadership Day at the College of San Mateo, IEE Executive Director Ed Church participated on an expert panel discussing the nexus of water and housing, with Richard Luthy, Professor of Civil and Environmental Engineering at Stanford University and Senior Fellow in the Woods Institute for the Environment of Stanford, and Nicole Sandkulla, CEO of  the Bay Area Water Supply and Conservation Agency.
They explored methods for constructing new, multi-family housing to address the Bay Area housing shortage, along with new technologies to dramatically reduce the per capita use of water.  Adrienne Etherton of Sustainable San Mateo County moderated.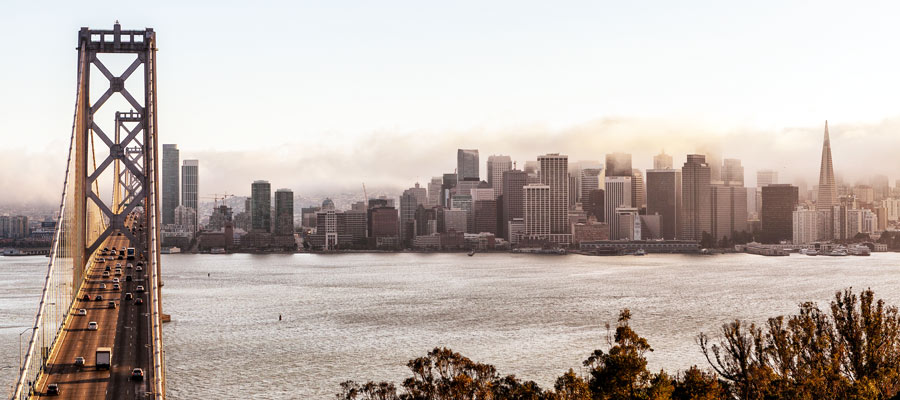 To begin the activities of Meeting of the Minds in Richmond, California, IEE Executive Director Ed Church was among experts in many fields invited to post his comments in "Dear 2015," a letter from the future with the premise "The year is 2050. Write a letter to the people of 2015 describing what your city is like, and give them advice on the next 35 years."
Ed began his post like this:
Dear 2015,
Over the past 35 years, three big factors have had a hand in setting the stage for us in the San Francisco Bay Area in 2050:
we've begun to cut our use of fossil fuels by about 50% toward the necessary 90%;
we've begun to come to grips with limits on natural resources;
our lives are adaptations to climate change.
And we have found that, amidst the daily challenges, we have what a button from 2015 said, More Fun with Less Stuff.
He ended with a plea to us in 2015:
"We need you in 2015 to finance this transition to the post-carbon society. You started developing "green bonds" for debt financing of energy efficiency, production and storage, as well as for urban buildings and infrastructure. Your next step was to harness positive "impact investing," equity ownership with a truly triple bottom line. But that didn't reach scale until 2025. If you had combined impact equity and impact debt to finance the transition in 2015, we could have mitigated more carbon, and begun the process of adaptation much more smoothly.
We look to you, our parents and grandparents to remember the words of Warren Buffett, investor and philanthropist, and one of 2015's richest people: "Someone's sitting in the shade today because someone planted a tree a long time ago."
Thank you, your children and grandchildren in 2050."
Read the whole post here.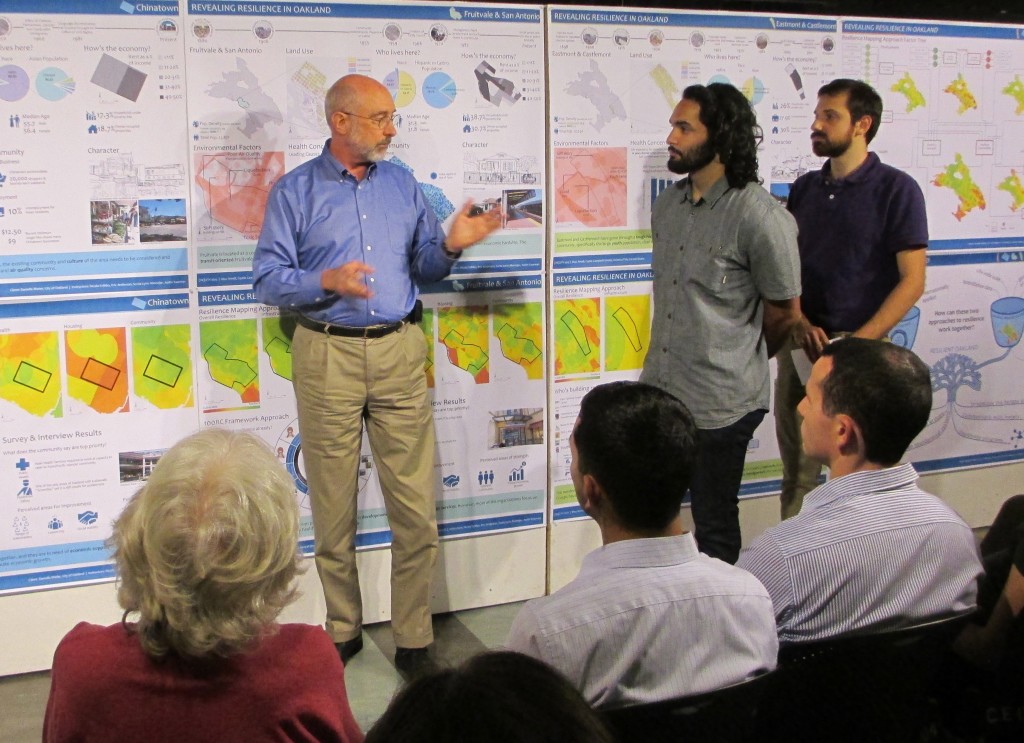 Each Summer, the UC Berkeley College of Environmental Design conducts the [IN]CITY program to provide non-planning students with introductory skills in urban planning and policy methods, including data collection/analysis, physical planning, mapping and visual representation. Students are introduced to land use policies and urban development processes and develop critical thinking, observation, and analysis regarding an understanding of cities.
On August 12, 2015, for the second year, IEE Executive Director Ed Church was invited to critique the studio presentations.
The studio products are designed for students to explore key policy challenges (institutional, political, social, economic, environmental, among others) and to develop tangible design and planning strategies. The class culminates with a studio presentation.  This year, the cities of Oakland and Berkeley were among the "clients" for the students' work.
"I was impressed with how the presentations were received by the clients.  And I was pleased be able to share my experience with both the students and the city staffs," Ed remarked.

January 28-29, 2015, this conference, held at the TopLine Accelerator in Richmond, CA brought together thought leaders in the Renewable Energy Finance, International Solar Development, Cleantech, Commercial Solar Finance & Renewable Investments.
IEE Executive Director Ed Church was one of the featured speakers on a panel with cleantech investors, about the connection between finance, public policy and net-zero technologies.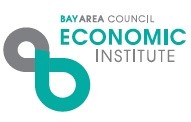 The 8th Annual Bay Area Economic Forecast was presented by the Bay Area Council's Economic Institute at the Federal Reserve Bank of San Francisco on January 16, 2015.  The event featured remarks by the Fed's President, John Williams, by BAC VP Tracey Grose, Mary Hamilton of Accenture and Jerry Nickelsburg of UCLA Anderson Forecast.
IEE's Executive Director Ed Church was part of a panel after the forecasts.  With other panelists from the City of San Jose, Qualcomm and Microsoft, he addressed the question of smart cities and data from the lens of transitioning to the post-carbon society.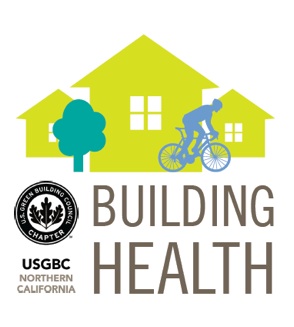 The Northern California Chapter of the US Green Building Council held its conference on Building Health December 11, 2014 at the University of California, San Francisco's Mission Bay Center. IEE Director Edward Church moderated the panel on Community Design for Healthy Habits.
"Walking is not "alternative transportation," it is primary transportation! Walking and other movement also promotes better thinking and creativity. But much of our urban design is based on removing these basic processes from our everyday lives. The session gave participants concrete examples of design and behavioral changes in diverse communities to be able to walk more and move more.
Panel Members:
Marily Oppezzo, Post Doc Stanford Prevention Research Center / Registered Dietitian
Geeta Rao, Initiative Officer, Great Communities Collaborative
Scott Watkins, Managing Partner, Buildaberg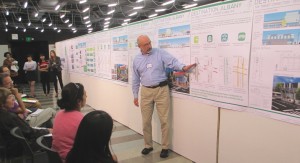 Each Summer, the UC Berkeley College of Environmental Design conducts the [IN]CITY program to provide non-planning students with introductory skills in urban planning and policy methods, including data collection/analysis, physical planning, mapping and visual representation. Students are introduced to land use policies and urban development processes and develop critical thinking, observation, and analysis regarding an understanding of cities.
The studio products are designed for students to explore key policy challenges (institutional, political, social, economic, environmental, among others) and to develop tangible design and planning strategies. The class culminates with a studio presentation.
This August, IEE Executive Director Ed Church was invited to critique the studio presentations. "I was delighted to share my experience with these thoughtful students," Ed remarked. "It's important for folks in a variety of disciplines to have a perspective on urban planning, which effects all our lives.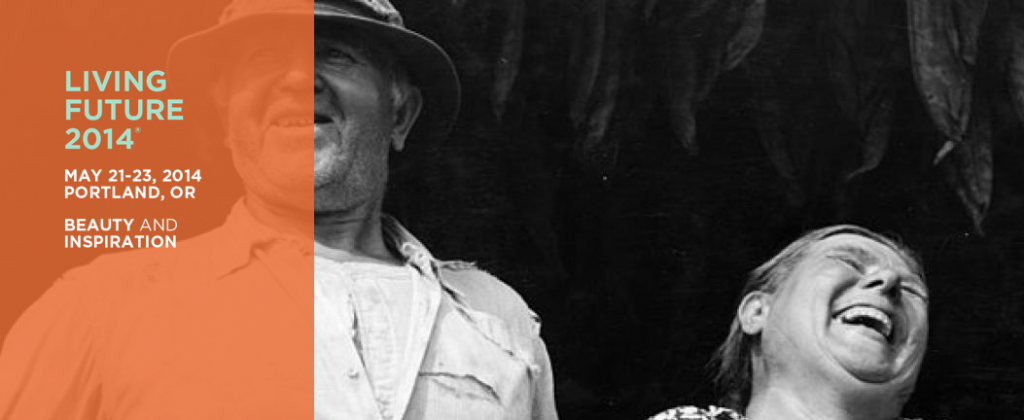 At the International Living Future Conference in Portland, Oregon this past May, IEE Executive Director Ed Church made a presentation on removing the financial, regulatory and behavioral barriers to life-affirming ("biophilic") design in the built environment.  Ed's presentation showed how the human systems which determine how and what we build are self-reinforcing.  Conventionally, that means building the environmentally and socially unsustainable which will not serve us in the decades to come.  He offered practical examples of emerging changes in finance and planning that can encourage a built environment that reduces energy and water, while enhancing human life.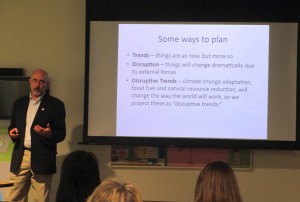 At the San Francisco Department of the Environment, IEE Executive Director Ed Church was asked to present ways to frame planning for 50 to 100 years, the useful life of urban infrastructure currently on the drawing boards. This March, the title of the presentation was "Urban Functions: Some Research and Some Provocation." Ed remarked that it requires stretching our imaginations a bit to think of a world 50 years from now where most of what we do and how we do it will change. But the alternative, that conventional infrastructure will still be useful in that world, is less plausible. The Institute's Resilient Infrastructure project offers research and tools to assist planning and investment.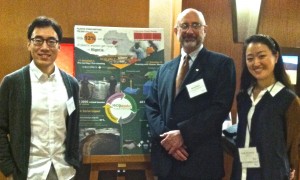 The Grand Hyatt Hotel in Seattle was the site of the celebration for the University of Washington's Global Social Entrepreneurship Competition. Members of the RecoPlastic team, mentored by IEE's Ed Church, were feted along with other finalists in February of 2014. The team of graduate students from MIT has developed a more environmentally-friendly and socially beneficial way to recycle plastic, in Lagos, Nigeria. Following the ceremony, two of the team members went back to Cambridge, MA for classes, and the third sped off to Lagos to set up operations.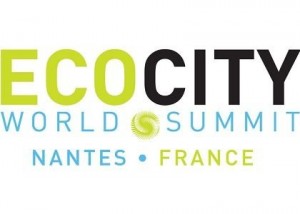 The Ecocity World Summit was held in Nantes, France at the end of September, 2013.  Organized by the NGO Ecocity Builders, the week-long event was designed to facilitate exchanges among local, regional and governmental decision-makers, researchers and the civil society, and bring together all the different disciplines on sustainable cities.
IEE Executive Director Ed Church was asked to make a presentation at the conference, based on some of the findings of the research we did for Arup, called the Cities and People Project.  Although unable to attend, Ed made the presentation via video.  Session organizers reported great interest in the video, and in the research.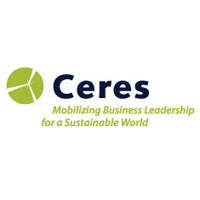 Climate change, extreme weather and depleting natural resources are forcing communities to rethink and rebuild critical infrastructure like water services, energy systems, and public transportation. Infrastructure investment has the potential to both provide sound returns for investors as well as create jobs and ensure a more sustainable world for future generations. How are innovative investors and companies making these investments within the current economic and political climate? What are the barriers to increased green infrastructure investment? In May, IEE Executive Director Ed Church joined featured panelists at the 2013 Ceres Conference to address these important questions and discuss how current success stories can be replicated and scaled.
IEE Associate Director Jennie Richards participated in the UC Berkeley Bio-Economy Conference at the end of March.  As part of the Institute's ongoing work to make the best in sustainability available to researchers and the public, Jennie did summaries of the sessions.

This spring, IEE Executive Director Ed Church served as a Mentor for the Global Social Venture Competition, mentoring a Team from the India School of Business via email and Skype. GSVC is a student-run competition to launch the next generation of social enterprise entrepreneurs. GSVC provides aspiring entrepreneurs with mentoring, exposure, and $50,000 in prizes to transform their ideas into businesses with real-world impact. This unique competition, founded at UC Berkeley-Haas in 1999, is run by students, for students, and connects promising social enterprises to the social impact investment community. Through eight regional partners and six outreach partners, GSVC attracts a diverse group of entrants from around the world.
Last year, Dr. Church shared his knowledge of the social and environmental impacts of business with his mentee group, based in Bogota Colombia, by email and Skype.
Ed Church will be part of the festivities as GSVC celebrates April 12 at the Haas School of Business.
BASES, the Business Association of Stanford Entrepreneurial Students, annually sponsors the Social Entrepreneurship Challenge, which awards a total of $50,000 to teams with exceptional business models that generate positive social impact. In addition, teams receive mentoring from experts in social-impact funding, legal issues, and social entrepreneurship. Competition categories include health, education, economic development, and environment.
For the third year, IEE Executive Director Edward Church has been asked to be a judge for the first round of the Challenge, held February 5, 2013. Judges included venture capitalists, start-up experts and nonprofit leaders.
Finalists of Social E-Challenge have included Kiva, One Acre Fund, DripTech, and Embrace.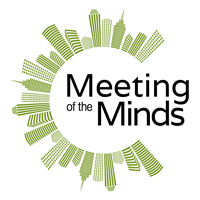 Meeting of the Minds is an invitation-only conference that brings together 350 opinion-shapers, policy-makers, leading thinkers and innovators from every sector. The conference is two-plus days of intensive exchange for leaders creating more sustainable cities using smarter design tools, sounder environmental practices, and cleaner energy systems.
Among the dozens of international leaders who speak at Meeting of the Minds are innovators scaling-up practical urban innovation in infrastructure, design, technology, energy, transport, water, finance – all are building more livable cities. At Meeting of the Minds, leaders from multiple sectors and diverse geographies share ideas and shape a common agenda.
In November of 2012, IEE Executive Director Ed Church was invited to attend their San Francisco convening. Following the meeting, MOM creator and convener Gordon Feller of Urban Age Institute invited Ed to write a piece for the CityMinded.org blog highlighting points of interest MOM participants would have in IEE's Arup paper. IEE was commissioned by Arup to do a high-level review of the human interaction with the built environment, with the goal of creating low-carbon cities.
Meeting of the Minds published the article here.
Here you can read the full report for ARUP: Cities and People Project White Paper.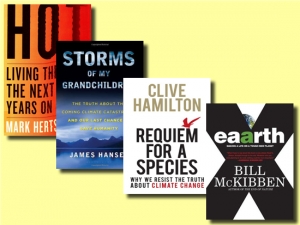 In January 2013, GreenBiz.com—a leading source of news and opinion on business and the environment, published IEE's new four-book review called "Learning from the Eco Doom Books." See the article here.
For this review, our staff chose four important books on the topic of climate change and global warming to compare and contrast themes, causes, different remedies and solutions, and predictions that each author puts forth. We think that we can collectively create a discipline of "sustainability" by making better use of what's already out there.  This review is an example.
The full text of the review published in GreenBiz.com can be found here.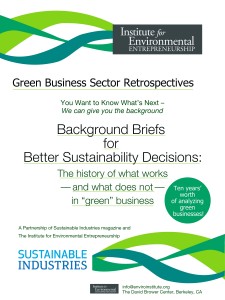 Sustainable Industries is an independent West Coast media company producing an award-winning bimonthly magazine, industry newsletters, webinar series, case studies, and the Sustainable Industries Economic Forums.  In 2012, IEE partnered with Sustainable Industries Magazine, by reviewing and chronicling all their articles published from the inception of the magazine in 2003 through 2012. IEE's synthesis of all articles focused on specific green industry sectors over the 10-year period, summarizing trends, highlights, chronology of events, impacts, challenges, and industry opportunities.
The first Industry Sector Report published focuses on the history and chronology of the LEED certification. It was published by Sustainable Industries in October of 2012.
With our partner Sustainable Industries, IEE now offers clients a full analysis and synthesis of top sustainable industry sectors by aggregating sector information in a retrospective context.
For the full LEED Retrospective, click here.

In October of 2012, IEE Executive Director Ed Church was an invited Delegate to the Opportunity Collaboration, meeting in Ixtapa, Mexico.
The Collaboration is a four-day problem-solving, strategic retreat for nonprofit leaders, for-profit social entrepreneurs, grant-makers and social investors engaged in economic justice enterprises, during which participants break down the silos of unproductive competition and go beyond the boundaries of conventional poverty alleviation.
Presentation on Meta Sustainability
UC Berkeley 's Master of Development Practice is based on a multidisciplinary, constructivist approach to graduate education that integrates theory with hands-on, experiential learning.  As part of its inaugural year, IEE Executive Director Edward Church was asked to give a seminar on the Institute's plans for Meta Sustainability – A New Science for Our Planet.
On September 26, 2012, Dr. Church gave the 90-minute seminar in the Earth Island Institute conference room, on the 4th Floor of the David Brower Center, emphasizing the close connections between UC Berkeley and IEE.  A 15-minute, edited version of the talk is presented here.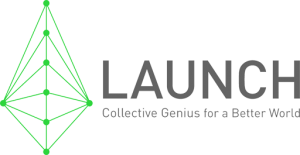 LAUNCH is a global initiative to identify and support the innovative work poised to contribute to a sustainable future and accelerate solutions to meet urgent challenges facing our society.
NASA, USAID, Department of State, and NIKE joined together to form LAUNCH in an effort to identify, showcase and support innovative approaches to global challenges through a series of forums. LAUNCH searches for visionaries, whose world-class ideas, technologies or programs show great promise for making tangible impacts on society.
In March of 2012, IEE Executive Director Edward Church was invited to participate in the LAUNCH Big Think on processes, projects and products to help us move Beyond Waste. Some of Ed's comments were posted by LAUNCH on their website.
The goal of the LAUNCH: Beyond Waste Challenge is to identify "game changing" innovations that have the potential to transform the current waste management systems and practices to ones focused on minimizing waste and/or transforming waste into new products.
Ed Church was invited to participate as a Council member at the Forum for Beyond Waste in which the innovations were presented July 20-22 at the Jet Propulsion Laboratory in Pasadena, California.
At the Progressive Opportunities conference held February 26, 2012 at the David Brower Center in Berkeley, where the Institute's offices are located, IEE's Executive Director, Edward Church, teamed with Harvard Fellow Jay Youngdahl to present "The New Sustainable Theory of Investing."
The presentations were part of an informative day-long conference on means to build a just and sustainable economy.

On May 4, 2012, University of California graduate students in the Department of Environmental Science, Policy and Management (ESPM) augmented presentations of their research with opportunities to explore career options in ecosystem stewardship, environmental governance, global change, organisms and biodiversity, and science, technology and environme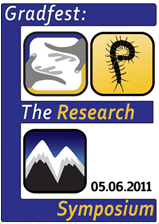 nt.
IEE was invited for the second year, with representatives from corporations, government agencies and other nonprofits, to meet with Ph.D. students at Pauley Ballroom on the UC Berkeley campus. Executive Director Ed Church represented IEE and commented, "These students are among the best and brightest in pursuing ways to increase human potential in environmentally friendly ways. We depend on them and wish them well!"
More information on the ESPM program is available on their website at http://espm.berkeley.edu/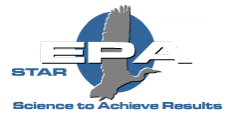 Each year, the U.S. Environmental Protection Agency (EPA) awards prestigious Fellowships for Graduate Enviromental Study under the Science to Achieve Results (STAR) program. Fellowships of up to $126,000 are awarded through the National Center for Environmental Research. This February, Edward Church, IEE Executive Director, was one of the Peer Reviewers consulting on selection of STAR finalists in Washington, D.C.
Reviewers evaluated applicants on their potential for success in an environmental graduate study program. The program engages the nation's best scientists and engineers in targeted research that complements EPA's own outstanding intramural research program.
One of NCER's highest priorities is ensuring that the nation has a well-trained scientific workforce that can address tomorrow's complex environmental issues.
STAR Fellowships have focused on such topics as air toxics, drinking water, water quality, global change, ecosystem assessment and restoration, pollution prevention and new technologies, economics and decision sciences, computational toxicology, nanotechnology, and biomarkers.
Ed was one of the few consultants from the Western U.S. and was pleased to be able to bring the Institute's participation to the EPA process.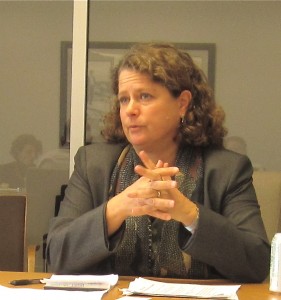 On November 15, 2011, Amy Fraenkel, the Director and Regional Representative of the United Nations Environment Program (UNEP), presented at a meeting organized by the Institute for Environmental Entrepreneurship and co-hosted by IEE partner ARUP at their San Francisco office.  Ms. Fraenkel was there to engage with, and give information to, Bay Area businesses about the upcoming Rio+20 event.
Next year marks the 20th anniversary of the historic 1992 Earth Summit. In light of this historic event, the United Nations Conference on Sustainable Development (also known as Rio+20) will take place in Rio de Janeiro next June. The Conference seeks to: 1) re-invigorate political support for sustainable development, 2) look back and assess the progress to date, and 3) tackle emerging issues that have reached their "tipping points" such as food security and water. The Conference is also particularly focused on the creation of a Green Economy.
Ed Church, Executive Director of IEE, and Aidan Hughes, a Principal at Arup, convened the meeting, attended by representatives from PG&E, financial services, the Sustainable Business Alliance, Sustainable Industries magazine, and others. Ms. Fraenkel was especially interested in connecting with Bay Area businesses since much innovative thinking begins in the Bay Area, and thus it is critical to include the West Coast in the discussion.
Overall, the meeting brought together a range of people engaged in sustainable business and built a potentially long-lasting connection between UNEP and Bay Area green business experts.
It was one outcome of the process begun last November when Ed chaired and IEE staffed a Working Group to give input to the Conference.

IEE Executive Director Edward Church was a panelist at the 9th annual Architecture and the City Festival, the nation's largest architectural festival. This year's theme is "Architecture of Consequence," which hopes to demonstrate how progressive design and creative problem solving can address society's current challenges and lead to a more sustainable future.
Dr. Church spoke on a panel about "Communities of the Future." Seventy people attended the panel, which examined how increased demands for water, food, energy and recreational space are shaping contemporary architecture.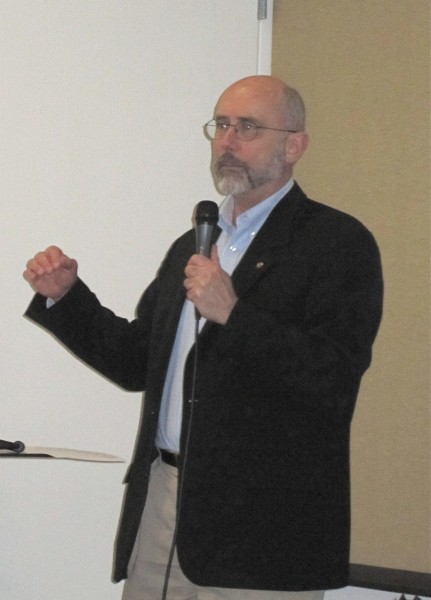 Where are the emerging career opportunities in triple bottom line finance?
Executive Director Ed Church offered some of the answers on a panel with RSF Social Finance President Don Shaffer and New Resource Bank VP Bill Peterson, January 23, 2011 at the David Brower Center. They spoke at the Progressive Opportunities Career Fair, organized by the East Bay Express newspaper. The panel spoke to a standing-room-only crowd at an event attended by hundreds of people.
Both RSF and New Resource provide loans to businesses whose products and services help to achieve environmental and social, as well as financial returns.  Ed spoke of the newly emerging field of "impact investing," which can generate these triple bottom line results. Impact investing goes beyond the relatively well known approach called socially responsible investing. SRI uses investment screens to avoid companies that produce things the investor regards as harmful, but impact investing seeks to invest in companies whose products or services make the world a better place. All three speakers asserted that, as impact investing increases in popularity, career opportunities will follow.
The Progressive Opportunities Career Fair was sponsored by the Bay Area Green Business Program – Alameda County, the City of Berkeley, the City of Oakland, the Green Chamber of Commerce, and the Sustainable Business Alliance.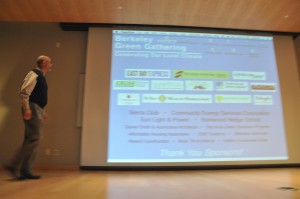 Ed Church, Executive Director of the Institute for Environmental Entrepreneurship, called for sound ecological investing at this year's Berkeley Green Gathering, which was held on November 5 at Berkeley City College.
One of 12 local speakers chosen to highlight their work building a sustainable tomorrow, Ed described how members of the Baby Boomer generation collectively have the investment power of trillionaires tied up in their retirement plans.  It is not enough merely to avoid investing in damaging companies, it is time that this generation used their combined earnings to invest in making the world better through the new field of Impact Investing.
Ed, inspired by reading the book Slow Money, said that the local food system is one of the best places people can invest, and he described how he put some of his retirement portfolio towards getting Gather, an organic locally-sourced restaurant located in Berkeley's David Brower Center.
One of the Institute's Sustainable Enterprise Cluster members is the Slow Money Alliance, whose executive director Ari Derfel, also runs Gather.  Ed Spoke of how Slow Money Alliance is dedicated to the very mission of investing in local food and encouraged the audience to join in their mission.
Other local speakers included Kristin Henninger, the director of Green Cafe Network; Victory Lee, the founder of the Victory Garden Foundation and Aekta Shah of the Wangari Maathai Center.
Environmentalist and author Bill McKibben delivered the keynote after being introduced by comedian and activist Josh Kornbluth. McKibben spoke of the dire realities of climate change today, and how efforts such as his own 350.org campaign are doing a great job of educating people about the problem but not yet enough to stop global warming.

IEE Executive Director Ed Church spoke at the Social Capital Markets conference held in October 2010 in San Francisco. Also known as SoCap10, it is an annual conference that attracts 1400 people from 40 countries. He was asked to speak as part of the learning track called Food Systems, on a panel devoted to "Creative Financing: Lessons Learned."
SoCap is a multi-platform organization dedicated to the flow of capital towards social good. Their conferences connect leading global innovators – investors, foundations, institutions, and social entrepreneurs – to build this market at the intersection of money and meaning.
SoCap is building a new form of capitalism that recognizes our ability to direct the power and efficiency of market systems toward social impact, leading to a more balanced set of "returns."
IEE coordinated the documentation of session summaries to capture the knowledge and information from the SoCap Conference.